Polycom SoundPoint IP 501
General Information
The SoundPoint IP 501 is a 3-line desktop IP telephone that utilizes Polycom's Acoustic Clarity Technology™ to deliver superb sound quality.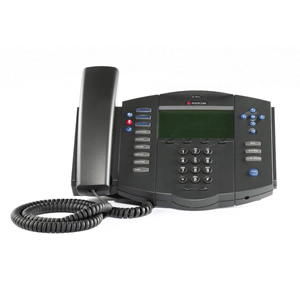 The SoundPoint IP 501* is a three-line Voice over IP telephone that seamlessly integrates with IP PBX and Softswitch vendors' IP solutions. As protocols develop and standards evolve, it's easy to update the phone in the field via a software download, thus enabling new features and functionality for the phone and protecting your investment. Whether you deploy MGCP or SIP standards, Polycom offers a solution that fits all your business communication needs.
Features:
Standards Based
Supports SIP and MGCP
3 line appearances
Large, content-rich 160 x 80 display
Dual 10/100 Mbit/s switched Ethernet ports
Works with IEEE 802.3af Power or Cisco Power over Ethernet with optional accessory cable (Feature is built into Polycom SoundPoint IP 601)
External Power Adapter Included
4 context-sensitive soft keys
Headset support included
Full duplex speakerphone
Enhanced productivity

An intuitive user interface offers dedicated, one button access to common telephony features, and an information-rich graphical LCD display delivers content for messaging, call information, directory access, and applications. Suitable for everyday users, the SoundPoint IP 501 offers superb voice quality when used with a headset, handset or in hands-free speakerphone mode. Polycom industry-leading sound quality implemented in the SoundPoint IP 501 enhances the productivity of your business phone calls, because you will spend less time trying to understand what other people are saying, and more time communicating with them.

An enterprise-grade IP telephone for Polycom unified collaborative communications solutions

With integrated video, voice, data, and Web capabilities, Polycom offers the only solution that gives you an easy way to connect, conference, and collaborate any way you want. It's our commitment to making distance communications as natural and interactive as being there. Work faster, smarter, and better with the SoundPoint IP 501 and Polycom's integrated communication solutions.

Benefits:
Proven - Polycom is a leading independent supplier of standards-based award winning IP telephones
Acoustic Clarity Technology - Polycom's legendary technology that provides exceptional sound quality and allows for simultaneous natural conversation (full duplex)
Flexibility - Choice between handset, headset, or natural two-way (fullduplex) speakerphone mode and choice of protocols and Technology Partner solutions
Easy-to-use - 12 dedicated feature keys and 4 context-sensitive soft keys; 160x80 pixel graphical grayscale LCD
Advanced functionality for SIP
- HTTPS secure provisioning**
- Enhanced call handling**
- Instant messaging

Choice of powering options - Support for AC power (included) and Power over Ethernet options (sold separately)

Specifications:
IETF SIP (RFC 3261 and companion RFCs)
Local feature-rich GUI
Call transfer, hold, divert (forward) Called, calling, connected party Identification/information
One-touch speed dial, redial
Local 3 way conferencing
Simplified conference call handling**
Up to 3 dedicated lines
Flexible call appearance**
Multiple line appearance**
User configurable directories and call history (Missed, placed and received)
Presence: buddy list, my status
Instant messaging
Unicode character support
Distinctive incoming call treatment/call waiting
Do not disturb function
Local call timer
Multilingual user interface
Automatic off-hook call placement Security
Digest authentication
HTTPS secure provisioning**
URL syntax for Boot Server address*** (RFC 1738)
Support for "signed" software executables***
Display
Grayscale graphical 160x80 pixel LCD
Message alert indicator
Feature Keys
12 dedicated feature keys (3 keys with display indicators)
4 context-sensitive soft keys
Predefined hold key

Power
Included external wall adapter with power provided directly to the phone
Optional inline power cables for IEEE802.3af or Cisco® Inline Powering
Headset Capability
4-position modular jack compatible with Plantronics® and GN Netcom® amplified business headsets
Handset
Hearing aid compatible
Codecs
G.711 µ/A and G.729A (Annex B) configuration
Manual or Dynamic Host Configuration Protocol (DHCP) IP address setup
Time and date synchronization using SNTP
Server provisioned XML-based user configuration files

Audio
Individual volume settings for each audio path with visual display feedback
Customizable audio sound effects
Hands-free audio modes including headset and full-duplex speakerphone
Adaptive jitter buffers to improve speech quality
Network and Provisioning
Dual 10/100 Mbit/s switched Ethernet ports

Approvals
CISPR 22 class B
VCCI
EMI
FCC Part 15 Class B
ICES-003 Class B
EN 55022 class B
Safety
UL 1950
CE Mark
CSA C22.2 No.950
EN60950 * - The SoundPoint IP 501 is currently offered in North America, Australia, and New Zealand only
** - Requires SIP version 1.5.x or higher
*** - Requires BootRom 3.0.x or higher


If you require immediate attention, please contact us at info@callcms.com or give us a call at 866-973-VOIP (8647).