The Ultimate VoIP Telephone.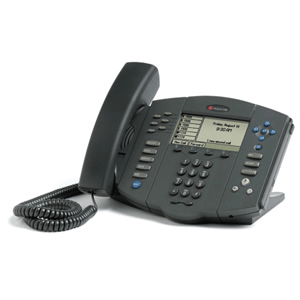 General Information
The SoundPoint IP 601 delivers unsurpassed voice quality, an advanced feature set, and the expandability to support up to three SoundPoint IP Expansion Modules.
The SoundPoint IP 601 – based on the award-winning SoundPoint IP 600 – is your best choice for a standards-based Voice over IP telephone. Ideal for users requiring multiple lines and advanced features, the SoundPoint IP 601 delivers both traditional telephone capabilities and new, converged applications to your business desktop.
Features:
Standards Based
Supports SIP
SoundPoint IP Expansion Module Support
6 line appearances (12 additional lines with the expansion module)
Large 320 x 160 pixel grayscale graphical LCD
Full-duplex speakerphone with Acoustic Clarify Technology
Advanced functionality: enhanced call handling, security, and presence
Dual 10/100 Mbps switched Ethernet ports
Built-in auto-sensing dual-mode PoE support

Enhanced Productivity

The SoundPoint IP 601 provides a powerful, yet flexible IP communications solution, delivering excellent voice quality. Its intuitive user interface offers dedicated, single-button access to common telephony features. The high-resolution display supplies content for call information, multiple languages, directory access, system status, and future applications. The SoundPoint IP 601 supports advanced functionality, including multiple call- and flexible line appearances, HTTPS secure provisioning, instant messaging, presence, custom ring tones, and three-way local conferencing.

When equipped with up to three SoundPoint IP Expansion Modules, the SoundPoint IP 601 delivers the advanced call handling capabilities of a high-performance attendant console. Designed to improve productivity of telephone attendants – executive assistants, receptionists, and secretaries – the attendant console allows effective and efficient management and monitoring of a high volume of simultaneous calls.

The SoundPoint IP 601 is easy to install and set up, as it is equipped with a two-port Ethernet switch, built-in auto-sensing Power over Ethernet circuitry, and can be centrally configured from a network-connected server. The SoundPoint IP 601 offers investment protection because it is software upgradeable in the field.

Benefits
Proven - Polycom is a leading independent supplier of standards-based VoIP telephones that are fully interoperable with leading call server solutions
Outstanding Voice Quality - Incorporates Polycom's legendary Acoustic Clarity Technology, validated by 13 years of market leadership in voice conferencing.
Advanced SIP Functionality(1)(2) -Multiple call- and flexible line appearances, three-way local conferencing, custom ring tones -HTTPS secure provisioning, support of "signed" software executables -Presence, instant messaging, buddy lists
Easy of Use - 18 dedicated feature keys, four context-sensitive soft keys, 320x160 pixel graphical LCD
Expandability - Supports up to three SoundPoint IP Expansion Modules
Choice of powering options - Auto-sensing, built-in Power over Ethernet circuitry supports IEEE 802.3af and Cisco Inline Power(3) standards. External power adapter included.

The advanced IP handset for accessing the power of Polycom's unified collaborative communications solutions

With the greatest breadth and depth of integrated video, voice, and Web solutions, only Polycom delivers the ultimate communications experience. Our market-leading conferencing and collaboration technologies, supported by world-class service, enable people and organizations to maximize their effectiveness and productivity. Add to that the most experience and proven best-practices in the industry, and it's clear why Polycom has become the smart choice for organizations seeking a strategic advantage in a real-time world.

Specifications
Lines (Direct Numbers)
Up to 6 lines (SoundPount IP 601 alone)
Up to 12 lines (SoundPount IP 601 with Expansion Module)
Protocol Support(1)
IETF SIP (RFC 3261 and companion RFCs)
Display
320 x 160 pixel grayscale graphical LCD
Feature Keys
18 dedicated keys
- 6 illuminated line keys
- 8 feature keys
- Illuminated mute key
- Illuminated headset and hands-free speaker phone keys
- Dedicated hold key
4 context-sensitive soft keys
6 display/menu navigation keys


Power
Built-in, auto-sensing Power over Ethernet with support for IEEE 802.3af and Cisco Inline Power(3)
External AC adapter (included; 24V DC @ 500mA min.)
SoundPoint IP Expansion Module Support
Supports up to three SoundPoint IP Expansion Modules
Headset and Hearing Aid Compability
Amplified headsets with an RJ-9 jack are recommended
Hearing aid compatible and compliant to ADA requirements of Section 508 recommendation

Audio Features
Full-duplex hands-free speakerphone featuring the Polycom Acoustic Clarity Technology
- Type 1 compliant with IEEE 1329 full duplex standards
Individual volume settings with visual feedback for each audio path
Support for G.711 µ/A and G.729A (Annex B) codecs
Voice activity detection
Comfort noise fill
DTMF tone generation / DTMF event RTP payload
Low-delay audio packet transmission
Adaptive jitter buffers
Packet loss concealment
Acoustic echo cancellation
Background noise suppression
Call Handling Features
Distinctive incoming call treatment / call waiting
Call timer
Call transfer, hold, divert (forward), pickup Called, calling, connected party Identification/information
Local three-way conferencing
One-touch speed dial, redial
Call waiting
Remote missed call notification
Last call return
Intercom
Automatic off-hook call placement
Do not disturb function
User Interface
Local feature-rich GUI
Time and date display
Shared call appearance, bridged line appearance (Key System emulation)
Multiple call appearances
Flexible line appearance(Requires SIP 1.5.x or later)
User configurable contact directory and call history (Missed, placed and received)
Customizable call progress tones
Wave file support for call progress tones
Presence and Instant Messaging
Presence: buddy list, my status, watched and blocked lists (MS RTC / Windows® Messenger compatible)
Instant messaging (MS RTC / Windows Messenger compatible)
Unicode UTF-8 character support. Multilingual user interface encompassing Chinese, Danish, Dutch, English (Canada / US / UK), French, German, Italian, Japanese, Korean, Norwegian, Portuguese, Russian, Spanish, Swedish

Network and Provisioning
Dual 10/100 Mbit/s switched Ethernet ports
Manual or dynamic host configuration protocol (DHCP) network setup
Time and date synchronization using SNTP
FTP / TFTP / HTTP / HTTPS server-based central provisioning for mass deployments
URL syntax for boot server address (requires BootROM 3.0.x +)
Web portal for individual unit configuration
Support for IEEE 802.1p/Q tagging (VLAN), Layer 3 TOS
NAT support – static
RTCP support (RFC 1889)
Event logging
Local digit map
Hardware diagnostics
Status and statistics quer
Advanced Server Features
Message waiting indication
Multiple registrations
Server redundancy
Emergency proxy routing
Security
Digest authentication
HTTPS secure provisioning (requires SIP 1.5.x +)
Support for "signed" software executables (requires BootROM 3.0.x +)

Approvals
FCC Part 15 (CFR 47) Class B
ICES-003 Class B
EN55022 Class B
CISPR 22 Class B
AS/NZS 3548 Class B
VCCI Class B
EN55024 Class B
EN61000-3-2; EN61000-3-3; EN-61000-6-1

Safety
UL 60950
CE Mark
CAN/CSA-C22.2 No. 60950
EN60950
IEC 60950
AS/NZS 3260

(1) - SoundPoint IP 601 will only run on SIP version 1.6.2 or higher.
(2) - Most of these features and functionality must be supported by the call server.
(3) - Cisco Inline Power can be used only to power the SoundPoint IP 601 without an Expansion Module attached to it. IEEE 802.3af
PoE or an AC adapter should be used to power the SoundPoint IP 601 with one or more Expansion Modules.

If you require immediate attention, please contact us at info@callcms.com or give us a call at 866-973-VOIP (8647).